We have recently cataloged and condition checked a early/mid 20thC collection of shadow puppets from Andhra Pradesh, India. Its a wonderful collection, with varying heroes, gods and animals.
Leather shadow puppetry of Andhra Pradesh is known as Tholu Bommalata, (Tholu – leather, Bommalata – puppet dance). The stories that were portrayed at the shows were generally taken from the great epics of Ramayan and Mahabharat.

Shadow puppets during performance
Three types of skins can be used to manufacture puppets – antelope, spotted deer and goat. Antelope skins are reserved for making a limited number of auspicious characters such as the gods and epic heroes. Deer skin, noted for its strength and resistance to rough handling, is employed in the figures of warrior, Bhima; the ten-headed demon king, Ravana. All other puppets are made from goat skin, readily available locally. Most puppets are made from a single skin. The thinness of the leather gives the puppets a transparency and jewel like glow when in use.
The collector has added tags to many of the puppets with name of character name, date/place collected and more importantly the name of the puppet maker, which forms an important resource for the archive.
The collection was photographed, numbered and complete condition report was produced to document any damage or repairs through use, changes from environmental factors or deterioration of materials over time.
Here are just a few of the collection highlights…

Draupadi- wife of the 5 Pandava's from the Mahabharata with stitched middle to reinforce the leather and label

Just a few of the wonderful animals. A eagle, bull, deer and golden deer. Many of the puppets have losses or repairs through use on-stage

Laksmana- damage to the chariot base and horse legs from use.Fantastic face on the horse is a highlight.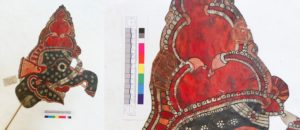 Patch repairs on the head of Ganesha

Signs of heavy use with the sword being repaired, possibly from a on stage battle, a reinforcing strip on the head, the losses on the base of puppet . This puppet is in the Karnataka tradition of shadow puppets ( Bellary district)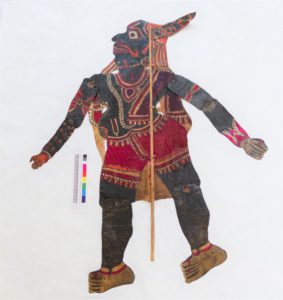 Vidusaka the Jester. The lower left arm from the elbow is much smaller and a different pattern suggesting a replacement during its use.
Currently the shadow puppets are on loan to Upfront theatre where they will go on display in the future.